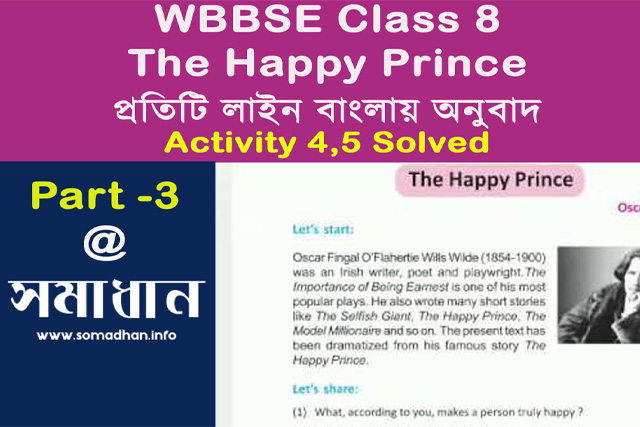 The Happy Prince (Class 8)
Part -2
Word Meaning
Motion- ভঙ্গিমা/ গতিবেগ
Tossing- কাঁপতে থাকা
Strange- অদ্ভূত
Luxor- মিশরের এক শহর
Attic- চিলেকোঠা
Theatre- নাটক
Sapphire- নীলকান্তমণি
Playwright- নাট্যকার
Revealed- উন্মুক্ত
Quietly – নীরবে
Overjoyed- উৎফুল্ল
Audience- দর্শক
Activity 4
Write True and False and Give supporting sentences
(i)The Swallow didn't want to help the Happy Prince. F
S.S- I do not say no to people. I will help you.
(ii)The happy Prince wanted to leave for Egypt. F
S.S – Swallow: I will leave for Egypt tomorrow.
(iii)The happy Prince asked the Swallow to take a sapphire to one of his to the playwright. T
S.S- Little Swallow take one of my sapphire eyes and give it to him.
(iv)The girl in the Town square had no shoes. T
S.S – I see a poor little girl in the Town Square . She has no shoes.
Suggested Reading
The Happy Prince Activity 1,2,3 Solved
Activity 5
Answer the following question
(i)Why did the swallow agree to help The Happy Prince?
Ans- The Swallow felt sorry for The Happy Prince and he could not say no to him and he agreed to help the Prince.
(ii)Why did the Swallow feel warm?
Ans- The Swallow helped a needy people and the good deed made himself warm.
(iii)What made the playwright say "Now I can finish my play" ?
Ans- The Happy Prince told the Swallow to give the poor playwright a sapphire from his eyes. When the playwright discovered the Sapphire he realized now he could finish his work and poverty would not stop him.
Click Below to download the Pdf